Spelling & Typing Mistakes Research
You can take advantage of the common spelling and typing mistakes in keyword based advertising.

The Spelling tool enables you to identify the common spelling and typing mistakes as well as spelling variations. It works by analyzing the past history of over 36 Billion actual searches.

Note: This feature is only available to subscribed users and you need to be logged in.


---

Example:

The common spelling and typing mistakes for "accommodation"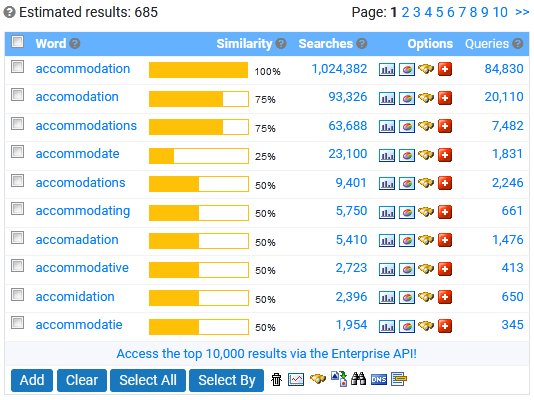 This is a partial list, but note the different ways in which people spell "accommodation".

If you are in the hotel and tourism industry, spelling variations of this single word, account for almost 40% of the available search engine traffic.

This means that if you also target the common misspellings in your search phrases and pay per click campaigns, you can get a real edge over your competition.



Testimonials:
"... my new keyword research tool of choice!"

Jill Whalen, highrankings.com
"... by far the most advanced and accurate keyword research tool..."

Andy Beal, MarketingPilgrim.com
"... the most comprehensive keyword research tool I've used."

Greg Jarboe, seo-pr.com
More testimonials...