| | | |
| --- | --- | --- |
| 9. Domain Researcher Tool | | |

Quickly find potential high traffic and available to be registered domains based on popular keyword search terms. The Domain Researcher Tool can cross references any search phrase if available as a .com or .net domain in real time.

Many domains are already taken, but with the batch keyword check feature, you can save time searching for that perfect domain that is still available. Checks 100 search terms at a time!

As you can check availability of domain based on searched for phrases, this tool is great to identify potential new high traffic domains or domains that not only describe your business or product but are already in the minds of potential customers. Example:

The images below show the domains that are taken and more importantly available for a shoe related keyword: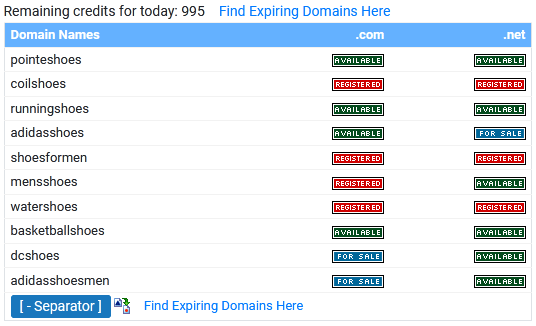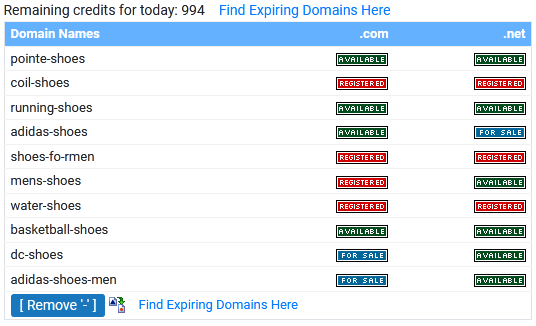 Potential uses for the Domain Research Tool are:

Find and register top quality domains containing popular keywords.
Find domains with potential type-in traffic, great for parking domains.
Find, register and create a site targeting the specific search terms.
Protect your trademarks, register domains that include your trademarks.
Find potential domains that you should register based on popular searches.

Testimonials:
"... my new keyword research tool of choice!"

Jill Whalen, highrankings.com
"... by far the most advanced and accurate keyword research tool..."

Andy Beal, MarketingPilgrim.com
"... the most comprehensive keyword research tool I've used."

Greg Jarboe, seo-pr.com
More testimonials...