Importing Keywords From An External Source

Play 'Importing Keywords' video tutorial!
The keyword import tool can be accessed by clicking the Import button on the toolbar. The import tool allows you to import keywords from meta tags, extract keywords from a URL, projects, from a text file, or by directly copy and pasting.

Tip:
If you need to clean up and filter your keywords before importing them, the Keyword Manger tool is an advanced Import and Filter tool.
For more information on the Keyword Manager tool, see the Keyword Manager manual page.
How to use:
Import a list of keywords.
You can import keywords from various sources, including:

Upload Keywords from a Text File - allows you to upload a text file (.TXT) list of keywords (line seperated). Other formats such as Excel and Word are not supported.
Extract Keywords from Meta Tags - allows you to extract keywords from the meta tags of a web page.
Extract Keywords from a URL - allows you to extract keywords from a web page. Unlike the Extract Keywords from Meta Tags option, it will extract keywords from anywhere in the page.
Import From Projects - allows you to load keywords from a project.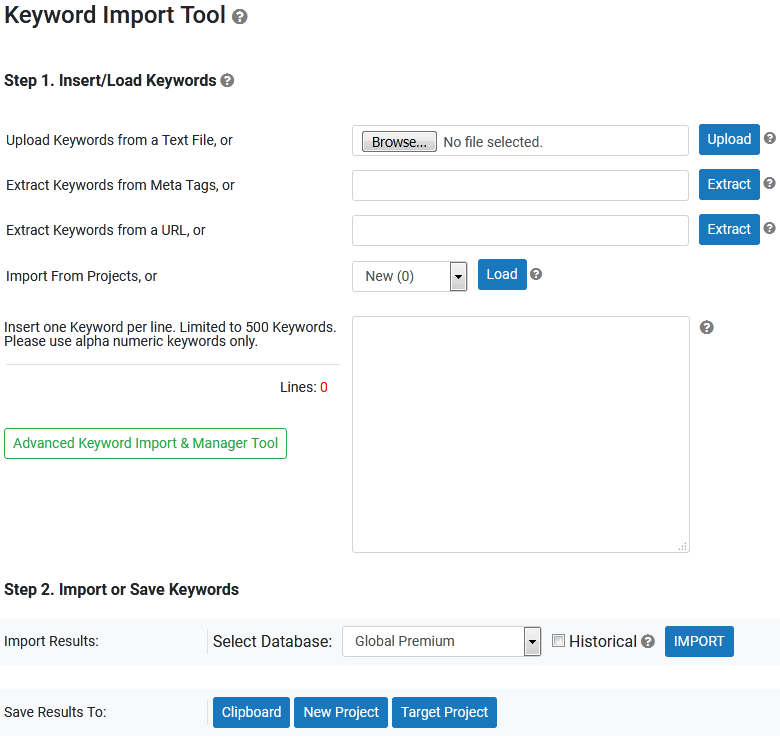 Finally, you can export, import or save the filtered keywords by selecting one of the options:

Clicking the Clipboard button to copy the keywords to your clipboard
Save keywords to an existing project by selecting it from the Projects - Target menu, then clicking the Selected Project button.
Save keywords to a new project by clicking the New Project button, then entering a name for the new project, then clicking OK.


If you want to import the list of keywords, choose a database to retrieve search volumes from, then click the Import button.
Checking the Historical checkbox will display search counts from August 2008 to present.

The keywords will be imported then displayed. The imported keywords can then be used in the same manner as the search keywords.
Notes:
The import tool is limited to importing 500 keywords/phrases at a time. Up to 5000 keywords can be imported per day. The limit also takes into account keywords imported via the filter tool.
Enter the data to import, using one search term per line, or separating each keyword by commas. Select a database to fetch the search figures from, then click the Import button.
Please remove all non alphanumeric characters as they will cause the import to fail.
<
Keyword Reports
|
Exporting Keywords
>