The Keyword Research Interface - Toolbar
All primary tools in Keyword Discovery can be found on the main toolbar.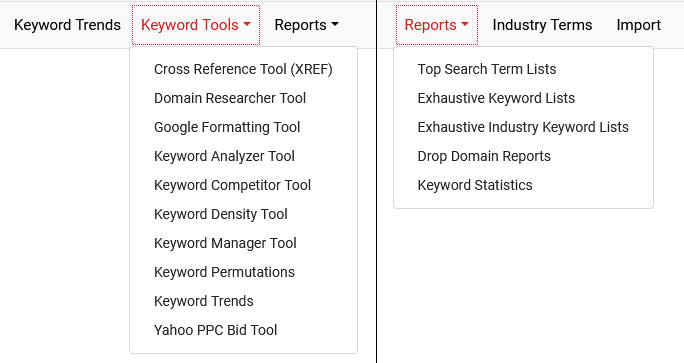 Rolling over Keyword Tools or Reports will display a drop-down menu. You can click on a tool in the drop-down menu to go straight to it or click on Keyword Tools to go to the main page with deatils on each tool.
The main tools are:
Research - The Research tool is where to start your keyword research. Enter one or more keywords and click search. From there, you can drill down, analyze or filter your keywords.
Keyword Trends - See trend data, market share, Search Demographics and Search Engine Market Share for upto 5 search terms at once.
Industry Terms - The Industry terms tool provides lists of common search terms grouped by category. This makes it easy to discover some of the top searches for specific industries.
Import - You can import a list of keywords from a file, a URL or copy and paste it into the import field. (Importing is limited to 500 keywords per import, and 5000 keywords per day.)
Projects - From the Projects tool, you can manage your projects or keywords in your projects. The projects tool also includes a translator.
Next to the Projects button on the toolbar, there is a drop down menu where you can select the Target project (the open project that keywords will be added to).
<
An Overview of Keywords and Search Engine Ranking
|
Searching For Keywords
>