Keyword Tools - Competitors Tool
The Competitors feature lists upto the top 100 sites/domains that receive the most traffic for that keyword from Search Engines. This is great to identify who your main competitors are for a give search term. It is also valuable as it highlights that fact that the #1 ranked sites are not always the ones that receive most of the search traffic.
The Competitors Tool is avaliable from the Keyword Tools menu.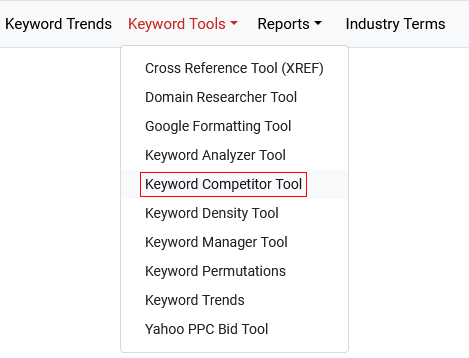 The Competitors Tool allows you to find top competing websites for multiple keywords at the same time. Other features include detailed information about backlinks for returned websites, access to Top Competing PPC Sites as well as the Top 100 Competing websites. Keywords can be imported/exported from projects, URLs, files and meta tags.
The Competitors Tool can be used to:
Identify your competitors
Identify PPC advertising competitors
Check competitors' PI Rank (Popularity Index)
Check competitors' backlinks (sources of traffic)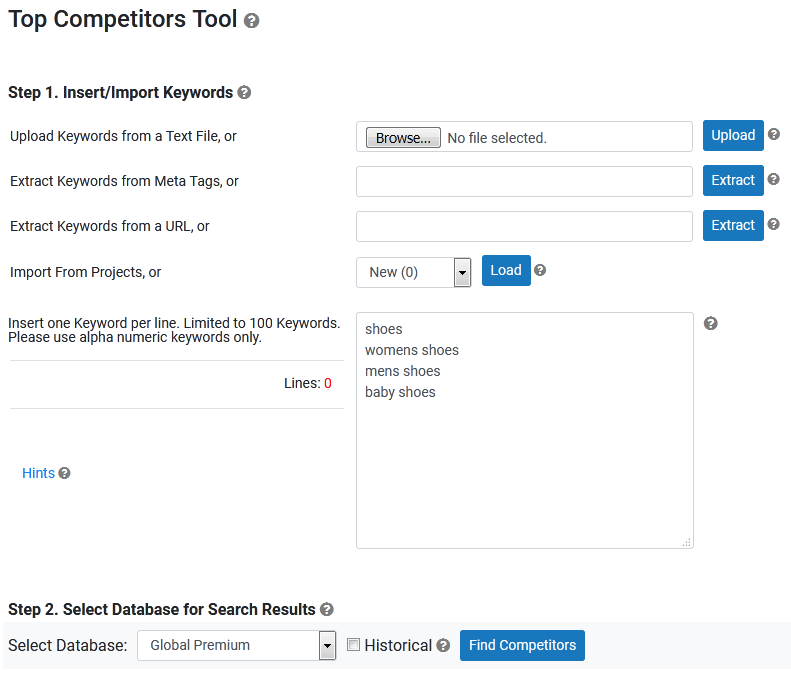 To use the Competitors Tool
Enter a list of keywords to be analyzed.
You can import keywords from various sources, including:

Upload Keywords from a Text File - allows you to upload a text file (.TXT) list of keywords (line seperated). Other formats such as Excel and Word are not supported.
Extract Keywords from Meta Tags - allows you to extract keywords from the meta tags of a web page.
Extract Keywords from a URL - allows you to extract keywords from a web page. Unlike the Extract Keywords from Meta Tags option, it will extract keywords from anywhere in the page.
Import From Projects - allows you to load keywords from a project.

Hints:


Use a Single search phrase to identify Competitors for that phrase only
Using Multiple Related keywords will identify Competitors across keyword theme or keyword categories
Using Multiple Unrelated keywords will yield general and inaccurate Competitor results

Choose a database to retrieve search volumes from. Checking the Historical checkbox will display search counts from August 2008 to present.
Click the Find Competitors button to see the results.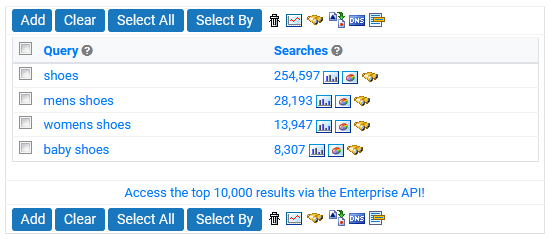 The first table shows your keywords along with search volumes from the selected database.
You can perform all the normal actions like Add to Project, Analyze, Cross-Reference, etc.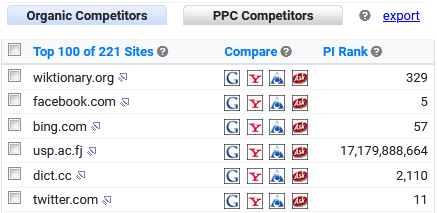 By default, the second table shows the Top Organic competing websites. That is, websites which appear within the actual search results.
You can switch to Top PPC competing websites by clicking the PPC Competitors tab at the top of this table. This will show websites which appear in the PPC advertising of search results.
This table also includes the number of backlinks for each competitors' website and by clicking the Yahoo, Google, AOL or Ask icon, you can view backlinks indexed in these search engines. You can click a backlink result to see the top 100 for this website.
What do the columns mean?
Top Sites
This feature provides a list of Domains that receive the most search engine traffic from that keyword. This is great to identify who your main competitors are for a given search term.
Backlinks
Shows the number of unique Backlinks a domain has from other URLs. Includes links from sub-domains. The Backlink number is compiled from various sources extracted from the web. As a result the number in most cases will be greater than what a single Search Engine will display.
For more information, see the Backlinks manual page.
Compare
Quickly check the Backlink counts as reported by each Search Engine.
PI Rank
The PI Rank (or Popularity Index) is a rank assigned to each domain, based on the number of unique sessions it receives. A domain's PI rank score is a 3 month rolling average.
The data is gathered from user panel data, captured via ToolbarBrowser users that have the PI Rank feature enabled.
For more information, see the PI Rank manual page.
<
Projects
|
Keyword Reports
>